Cost of Living in China 2022 | The Complete Guide
Cost of Living in China (in 2022) | Everything You Need To Know
Time to set the record straight, here's our complete guide to the cost of living in China for 2022…
First things first. Captain Obvious here, but, you know, China is huge. Believe it or not. You've heard it here first.
So… That means your living costs will vary a LOT depending on where you live – Beijing and Shanghai are generally the most expensive cities.
They are definitely more expensive than second and third-tier cities. So, life in Beijing and Shanghai will cost more than life in Chengdu or Dalian.
Likewise, life in Chengdu or Dalian will definitely cost you more than life in the countryside.
A lot will also depend on your lifestyle – whether you eat out a lot, go to concerts, drink in fancy and hip bars and restaurants or if you mainly cook by yourself and prefer a quiet night in.
Let's delve into more detail
Cost of Living in China – Your Lifestyle

Cost of Living in China – Other Expenses

Cost of Living in China – Entertainment

Cost of Living in China – Enjoy Yourself

Cost of Living in China – Beijing vs Shanghai

Cost of Living in China – Hong Kong vs Shanghai

Cost of Living in China – Hong Kong vs Singapore

Cost of Living in China – Shanghai vs Taipei

Cost of Living in China – Beijing vs Chengdu

Cost of Living in China – Student Challenge
Cost of Living in China – Your Lifestyle
Do you eat prefer Chinese food or Western-style food?
Do you enjoy a nice cup of coffee every day?
Do you live in the city centre or you don't mind living a bit further out?
Do you live alone or with one of more roommates?
Do you have a partner with who you share all your costs?
All of this will, of course, influence your living expenses in any other country, not just China.
I think somewhere between 2,000 and 3,000 yuan per month is what you can expect for a shared apartment in Beijing or Shanghai (this is for more central locations).
And a single-bedroom apartment in a central location will be somewhere around 5,000 and 6,000 yuan and it can go up.
You will pay less in other cities, that's for sure, although rents are generally going up. You will also have to pay for utilities – here you can expect to pay around 400 to 600 yuan for electricity, water, gas and internet.
Cost of Living in China – Other Expenses
You will need a phone: you can get a pretty decent Xiaomi Android phone for around 1,000 yuan, and phone expenses will usually cost you around 100 yuan per month.
As far as transport is concerned, public transport is of course much cheaper than taxi. You can expect to pay around 3 to 9 yuan per ride, depending on the length of the ride.
Taxis in Beijing and Shanghai are getting more and more expensive, but they are still cheaper than in most European countries.
I would say that in Beijing and/or Shanghai you would need somewhere between 4,000 and 5,000 yuan per month just to cover the basic expenses.
The site called Expatistan is cool for calculating cost of living and comparing the cost of living in different cities. Numbeo (which we'll be using shortly) is also a good site for checking various prices of various items.
Using these sites will allow you to see how the prices of items change, because of real people who live at a certain locations. Let's look at Numbeo.
It says that a meal for two people at a mid-range restaurant costs around 200 yuan (the range is between 120 and 300). Basic utilities stand at around RMB400.
Then look at the real-estate prices per square meter! A square meter in the centre of Beijing can cost a whooping RMB103,000! No worry though, if you are not planning to buy a place in Beijing, this won't apply to you!
Living in Beijing Part 3 | Renting an Apartment in Beijing
Renting an Apartment in Beijing in 2021 Renting an apartment in Beijing city can be a daunting task. Now you've caught up on what life in Beijing is like, and where the best places to live are… The next step…
Cost of Living in China – Entertainment Costs
This will, again, depend on your preferences. Cinema tickets go for around RMB50 and gym passes can be expensive.
Expatistan, for example, lists that a monthly gym pass in Shanghai will set you back for approximately 500 yuan.
Being healthy can also be expensive. But what a lot of the gyms do is that they give discounts if you buy a six-month or a yearly pass.
So, for example, if you get a monthly gym pass it may cost you less per month than if you paid month by month.
Cost of Living in China – Enjoy your Life
Having said all of this I think the most important thing to point out is to live within your means. Sometimes it seems that a lot of expats in China forget to do that. Go out, enjoy yourselves, hang out with your friends, but also don't forget to put a bit of your earnings on the side every month.
Because unplanned things do happen (I feel like a wise, old sage or Yoda while typing this), because they will inevitably happen.
Best Bars in Beijing – Hotel Bars
Top 5 Hotel Bars in Beijing for 2022 Today we'll cover the best hotel bars in Beijing. These bars are not only beautiful high, end places, but they are also fun to be in. And, you don't have to spend…
Let's now take a look at some city comparisons.
Cost of Living in China – Beijing VS Shanghai
As we know China better than anyone let's cut to the chase – Shanghai is more expensive to live in than Beijing.
You are paying for that international feel, brands, the modern financial city.
No doubt you can get by cheap(er) than many of the world's big hitters, but Shanghai will generally cost you more than Beijing simply put.
Here are some facts from Numbeo to back that up.
Pretty conclusive stuff. On all fronts Shanghai comes in higher. That said, the difference is NOT HUGE.
The key part to take from this is the top. You would need to earn 24,106 CNY in Shanghai to maintain the same standard of life if you earned 22,000 CNY in Beijing. So a difference of 2,000 CNY (290 USD) isn't all that daunting… but still a difference nonetheless.
The main element of difference here, unsurprisingly, is groceries with many imported foreign products available in Shanghai. If you can avoid going too deep with your familiar foreign brands, you might do better than you think.
So Shanghai would hold the card as the most expensive city to live in China, but what if we venture further afield, how does it fare compared to some of Asia's big hitters…
Check out our deeper look at the battle of the big guns – Beijing vs Shanghai
Cost of Living in China – Hong Kong VS Shanghai
So far we've learnt that Shanghai is China's most expensive city to live in… then up steps Hong Kong.
The Special Administrative region blows the cost of living in China out the park with some astronomical numbers, hard pressed to be matched by most cities in the world.
As you can see it's obvious that the cost of living in Shanghai is much lower on all fronts than Hong Kong by quite a considerable amount.
The biggest difference here is the cost of rent in Shanghai at over HALF the cost of rent in Hong Kong. In fact, Hong Kong is one of the most expensive cities for renting an apartment in the world.
To put it really into perspective you'd need 27,460 HKD to live in Shanghai whereas for the same standard of life you'd need 49,000 HKD in Hong Kong, that's a MASSIVE DIFFERENCE of 21,540 HKD! This is about the equivalent of 19,000 CNY so that's a really significant increase in the cost of living.
A Weekend in Shanghai – Lenka's Story
A Weekend in Shanghai A Weekend in Shanghai – Enjoying local Chinese food This is Lenka's Weekend in Shanghai story. She started her China journey in September 2018 when she came to Beijing with her daughter,…
Aside from renting, overall the cost of living in Shanghai looks to be around 30% lower than Hong Kong. This isn't too surprising considering that Hong Kong is one of the financial capitals of the world.
Now, let's see how that compares to the other notoriously expensive city in Asia: Singapore…
Cost of Living in China – Hong Kong VS Singapore
Despite the big numbers of Hong Kong, Singapore has given it a strong run for it's money!
Another big international and financial city, all in all, the difference in cost of living isn't too big between the two cities.
You can see that the cost of living in Singapore compared to Hong Kong isn't as clean cut as the previous comparisons between cities.
The only two areas higher here are consumer prices and restaurant prices. The reason for this might actually be explained by the comparatively high price of alcohol in Singapore compared to other Asian cities.
This is due to a high tax rate on alcohol which is definitely going to impact those restaurant trips if you're also enjoying a drink!
Although restaurant prices in Singapore are higher than those in Hong Kong, there is a great alternative: Singapore's famous hawker markets. These are much cheaper than restaurants and have an amazing array of food.
Overall to have the same cost of living you'd need 49,000 HKD in Hong Kong compared to the slightly lower amount of 45,072 HKD in Singapore. A difference of 3,928‬ HKD or around 3,500 CNY which is definitely worth noting.
Unsurprisingly, it's the rent in Hong Kong that has a big impact on the cost of living there. With rent in Singapore being a significant 20% lower than that in Hong Kong.
Want to find out more about these two Asian Behemoths? – Hong Kong vs Singapore
Next let's see how the Mainland compares to another outsider, Taipei…
Cost of Living in China – Shanghai VS Taipei
An interesting comparison here because the cost of living in Shanghai and Taipei is almost the same.
What is clear are the differences in rent and groceries which swing both ways.
The difference in the cost of living in these two cities is VERY SMALL. With Shanghai just edging to be slightly more expensive than Taipei.
There are two BIG differences between the two cities.
The first is rent, with rent prices in Taipei being almost 50% lower than Shanghai. This might be quite surprising given that Taipei is also a big international city. Now, you'd also think this would make Taipei considerably cheaper to live in, but then you have the other big difference to take into account…
Groceries…in Taipei, groceries are a shocking 54% higher than Shanghai!
For anyone familiar with shopping in Mainland China, this might not be too shocking given how cheap groceries generally are there.
If you do stick to local brands and Chinese products then this will lower your food shopping bill.
The other area where Taipei comes out more expensive is Consumer Prices, at just over 30% higher than Shanghai.
That is quite a substantial percentage higher, but with the lower rent in Taipei the cost of living actually pretty much evens out over all.
To look at how small the difference really is, to maintain the same standard of living you'd need 24,921 CNY in Taipei and 25,000 CNY in Shanghai. Barely a difference so take your pick with these two!
We've seen how the two biggest cities in China compare to each other and other big Asian cities, but what about a smaller city in Mainland China such as Chengdu…
Cost of Living in China – Beijing VS Chengdu
Back to the mainland. Chengdu is widely regarded as one of the best places for an expat to live in China, and the cost of living there is clearly one reason for that.
Simply put, Chengdu is a much cheaper city to live in than Beijing. This is going to be true of pretty much all other cities in China, excluding Shanghai.
If you are going to live in the capital of China, then you're going to have to accept that comes at a price compared to other Chinese cities.
It's immediately clear that the cost of living in Chengdu is considerably lower than Beijing in almost all areas.
Rent is the BIG one here, with the prices in Chengdu being a staggering 70% lower than Beijing! In fact, rent in Beijing and Shanghai is the most expensive of all cities in Mainland China.
To show the huge impact this has on the total cost of living, you just need to look at how much is needed for the same standard of life.
In Beijing you would need 22,000 CNY whereas in Chengdu you would only need 14,449 CNY to live the same lifestyle.
That's a difference of 7,551‬ CNY, clearly showing the appeal living in Chengdu has to expats!
Beijing Pollution 2021 😷: Everything You Need to Know
Beijing Pollution 2021: China Is Winning The War, But It's Not Over Yet When people think of Beijing, a lot of them are bound to start thinking of Beijing pollution and will start imagining grey skies and thick smog. With…
The next biggest difference is Restaurant Prices with Chengdu prices coming in 25% lower than Beijing.
Given, the many international restaurants in Beijing it's pretty clear why there is such a substantial difference.
If you're able to resist the urge to eat at Western restaurants in Beijing then that'll bring the cost of eating out down by quite a lot.
Interestingly here, the data shows that Grocery Prices in Chengdu are actually 5.92% higher than those in Beijing. However, at such a small percentage and given the cost of living as a whole this has very little effect.
Cost of Living in China – Student Challenge
Want proof about the cost of living in China?
We tested student Marie to see how little she could spend in a week, yet still of course, enjoy her lifestyle.
Let's see how she got on!
I started to see if I could live on less than 6 euro per day. It seemed feasible in China, especially for a person like me who could eat the same dish seven days a week.
I thought I could show everyone how for under 8 Euros a day, it was possible for one to lead a comfortable life with a varied diet without depriving themselves of anything.
Here's the result of my "Bruce Almighty Challenge of eating on less than €8 per day" (€8 = about 60 RMB).
Foreword:
All meals were eaten at restaurants, cafes and eateries. The water, usually hot, often containing tea leaves, is often served by waiters in any Chinese restaurant, as well as cold water, and it is usually available for free of charge upon request.
Day 1
My day starts with a cup of coffee.
For the humble price of 5.10 RMB you can buy 7 sachets of instant coffee from the super market.
Doing the math, my coffee costs 1.5 RMB (10.5 RMB: 7 days).
In addition, for 2 RMB, I get to drink a soft and delicate sweet "pumpkin and honey" drink sold in one of the many kiosks that are located near me at Jiu Gulou Dajie (the road leading to the "Drum Tower").
After my breakfast, I study a little. When it is time for lunch, I go to one of my favourite restaurants in Jiu Gulou: 饺子 馆 (Jiǎozi guǎn). "饺子" Jiǎozi – Chinese dumplings, are excellent, there are many other equally good and cheap dishes to be enjoyed in this small restaurant.
Today I decided to spoil myself with the excellent "咖喱 鸡肉 饭": chicken rice and curry.
After the large portion, I headed to the metro to go to my Chinese lesson. By LTL School I buy a 1.60 RMB mandarin.
During the break after an hour long lesson, I eat a chocolate bar called "Where" RMB = 2.50 and I have another coffee (free at LTL).
At the end of the lesson back to my beloved neighbourhood and I dine at elegant "Lost Paradise" fusion restaurant that combines the dishes of Yunnan (region in south-west China) with Thai treats.
Resisting the long list of dishes on the menu, I decided to order a dish of noodles in broth (25 RMB) which was amazing, like everything else.
The total amount spent today is 52.6 RMB
Basic Mandarin 📣 105 Simple Phrases To Make Your Life Easier
Basic Mandarin Phrases – Learn the Chinese greetings and other basic phrases in minutes with our pocket guide for Chinese beginners,
Day 2
I begun my Tuesday with my usual cup of coffee (1.5 rmb) accompanied with a tasty sweet red date 枣 糕 (zǎo gao) that reminds me so much of the yoghurt that my grandmother used to prepare.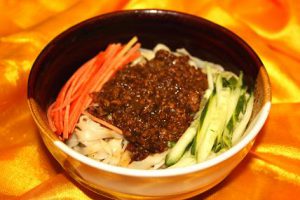 At lunch I decided to eat the tasty 炸酱面 (Zha Jiang Mian) also called "Spaghetti Peking" (with ground beef, soy sauce and fresh vegetables).
I ate them in a cheap restaurant at the foot of the "Drum Tower (挑 记 炒肝 店) for 10 RMB, while acknowledging the superiority of those at 饺子 馆 (restaurant where I had lunch yesterday) where the same dish would normally cost me 14RMB.
I snacked with an ice cream named adorably, 可爱 多 (Kě'ài Duo) … Cornetto! (3 RMB).
Tonight, I had a craving for Korean cuisine and Kimchi! (28 rmb + 5 for the cola). There are many Korean restaurants in China, the one I choose tonight is near 大 望 路 (Dawang Lu).
The total amount spent on today is 49.5 RMB
Day 3
Coffee and chocolate biscuits were an ideal way to start my day (1.5 + 6 RMB).
After a few hours of studying in the morning, I got ready and headed over to the headquarters of LTL for my Chinese lesson.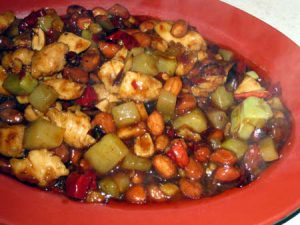 I decided to have lunch in the big mess (a food court) a short walk from the school.
Once there, I ordered a portion of rice with beef and vegetables (16 RMB).
During the break, I got myself a cup of tea (always free in the school) and after the lesson I decided to buy a yoghurt 老 酸奶 (lǎo suānnǎi), 2.5 RMB which can be purchased at any store or kiosk Beijing.
For dinner, I decided to take a ride in 南 锣鼓 巷 (Nán luógǔ xiang), an alley full of shops and live music venues.
On the way, I decided to stop in a small restaurant and eat 宫保鸡丁 (Gōng bǎo jī ding), diced chicken with ginger, peppers and peanuts.
I shared the huge portion with those who accompanied me, however, to demonstrate that the theory of the 8 euro continues to hold up, I've put in the calculator the cost of the entire meal (25 RMB) and a bowl of white rice (1.5 RMB).
Even with this, the days spend still came to a total of 52.5 RMB
Brand New Beijing Airport – Welcome to Beijing Daxing Airport
The new Beijing Daxing Airport is impressive and one day it'll be the world's busiest, but what does it look like? Come and find out with Max and Cam
Day 4
The day began with coffee and half a packet of chocolate biscuits advanced yesterday.
Today, after working for some time to blog, I decided I needed a change of scenery so I got ready and headed to 王府井 (Wángfǔ jǐng), a tourist district that owns an unusual celebrity of street foods: scorpions, snakes, cockroaches etc …
Today, however, I shall not delight in these delicacies but rather to verify the contents of a leaflet of the Japanese restaurant 元 気 寿司 (Genki sushi).
The place in question is located within a large mall, the Beijing APM (新东安 广场 – Xīndōng'ān Guǎngchǎng) and guarantees, in the time period that goes from 14.00 to 17.00, a full menu of sushi from 28 to 33 rmb.
Once settled down, me and my two friends prepared the tea with boiling water and the dry leaves that are ready on our table.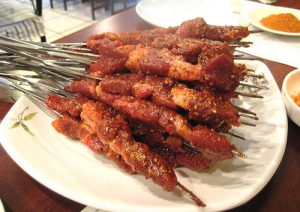 We each chose a different menu: 6 pieces of mixed sushi, spring rolls and miso soup for 28 RMB. A real bargain!
I spent the afternoon in the mammoth mall until I came to a store named "Pop Mart", which contained an onsite cafe that promoted a vanilla ice cream cone for just 1RMB!
After this sweet snack I moved to the largest library in the neighbourhood where I enjoyed browsing through its immense 6 floors.
After a while my stomach began to growl and my friends and I decided to give in to the lure of street food.
For dinner we buy only skewers of mutton (2 for 10 RMB) and conclude the evening on a sweet note with a 糖葫芦 (tanghulu) caramelised fruit skewers.
The total for the day is 52.5 RMB
Day 5
I had breakfast with coffee (1.5 RMB) and biscuits bearing the same name as me "玛利亚" (Mǎlìyǎ) (5 RMB), after which I devoted myself to a few hours of study and then ran to the district 朝阳 (Chaoyang); to get to class!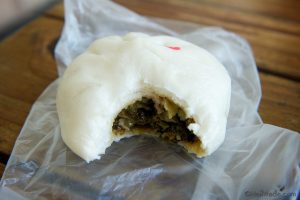 I arrived in time for lunch in one of those (I lovingly call) "barges", too small to be called a restaurant, and I order a portion of ravioli and one 包子 (Baozi) which is like a bun stuffed with meat and vegetables, both steamed.
The total for my meal was 14 RMB. Once I finished my lesson, I ran back to my hostel for a quick change and head to 五道口 (Wǔdàokǒu).
I reached my friends on the campus of BLCU and head to "The Sauce", a small restaurant close to the entrance to the library.
For 23 RMB you can take a sandwich, chips and a beverage of your choice. After dinner, my friends and I made our way towards 三里屯 (Sānlǐtún). It can be one of the most expensive areas in the capital but not for us.
For those on the list, open bar and free entrance to the "V Plus Lounge".
Total spend for the day 48.5 RMB
Beijing Metro Map: Discover all 459 Stations and 25 Lines
Beijing Metro 2022 – The Insiders Guide to the Beijing Subway System Taking a brief look at the Beijing metro map may cause confusion… So many lines, so many colours. Beijing is a big city.And guess what, it's getting bigger….
Day 6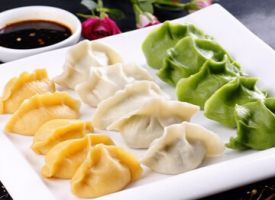 Saturday began slowly after all the free drinks the night before.
This morning, just coffee. I couldn't even face the biscuits I bought the day before, even though they were there staring at me.
I finally gave in to my friends constant badgering and met up with them for a healthy lunch, full of goodness…McDonald's!
A double cheeseburger + drink, only 15 RMB.
A little while later, my stomach now warmed up, whilst wandering through the streets with friends, I decided to snack on 2 large 包子 (Baozi), purchased from the same restaurant under the Drum and Bell Tower for 3 RMB.
In the evening, I walked with my friends to 后 海 lake (Hòuhǎi): After a dinner of ravioli tri-color (三 色 饺子), which costs 25 RMB, we buy a beer in the supermarket to for 4 RMB to finish our day with.
The total spend for Saturday is now 50.5 rmb (€ 7.37).
Day 7
My idea of a perfect start to a Sunday is relaxing with milk (2 RMB), coffee (1.5 RMB) and cookies (See day 5).
Although in China, I decided to do my day of rest, a real Sunday, with a plate of pasta, as I do in my home country of Italy. Yum!
I went to one of the many "Annie's" Italian restaurants in Beijing and I allowed myself a large plate of Spaghetti Bolognese to the tune of 28 RMB.
Once outside the restaurant, I realized that it is not Sunday without dessert, so I went to a shop and bought a certain "千层 雪 棒" (a thousand layers of snow on stick) the legendary "Viennetta" dose.
For dinner, I decided I needed a change of scenery and headed to a Taiwanese restaurant (金 汤匙 私房菜) in Chaoyang District. I finished my week with a very good plate of noodles in broth (18 RMB).
The total amount spent on today is 52.5 RMB
Mission Accomplished
So you see, it can easily be done!
I've eaten like a king (or queen) all week and it's never cost me more than €8 for a day.
I've eaten three meals and I've snacked. I've had Chinese food, Korean food, Italian food and good old fast food.
If you're in China on a strict budget and you're worried about the cost of living in Beijing, I hope this puts your mind at ease!
I hope you enjoy the many culinary delights that Beijing offers as much as I do.
Fantastic spending and insight from Marie there! Living in China, even Beijing, can be cheap after all!
Cost of Living in China – FAQ's
What is the most expensive city to live in China?

The most expensive city to live in China is Shanghai.

However Beijing isn't that much cheaper. If you're looking for a significantly less expensive city you'd need to look at smaller cities such as Chengdu.
Which is more expensive to live in, Beijing or Shanghai?

Shanghai is more expensive to live in than Beijing. The difference between the cost of living in the two cities isn't too big.

Shanghai works out to be about 2,000 CNY more expensive to live in per month.

Not a huge amount, but certainly something to consider.
Is life in China cheap?

Yes, comparatively speaking life in China is cheaper than that in most other Western countries. How much cheaper depends on the city you live in.

For instance in Beijing and Shanghai some costs of living are substantially cheaper such as grocery prices, but other areas such as rent aren't that much lower.

Smaller, less international cities like Chengdu are much cheaper to live in by comparison.
Is Hong Kong more expensive than China to live in?

Yes, Hong Kong is more expensive to live in than China.

Rent prices in Hong Kong are among the highest in the world and around double those in Beijing and Shanghai.

The cost of living in Hong Kong can vary depending on the area, but it is always going to be more expensive than China.
Which is more expensive, Hong Kong or Taipei?

Yes, Hong Kong is more expensive to live in than China.

Rent prices in Hong Kong are among the highest in the world and around double those in Beijing and Shanghai.

The cost of living in Hong Kong can vary depending on the area, but it is always going to be more expensive than China.
Want more from LTL?
If you wish to hear more from LTL Mandarin School why not join our mailing list.
We give plenty of handy information on learning Chinese, useful apps to learn the language and everything going on at our LTL schools!
Sign up below and become part of our ever growing community!